YOUR COMPETITIVES NOW MADE EASY WITH THE BEST COACHING CLASSES FOR AFCAT IN DELHI, MUNIRKA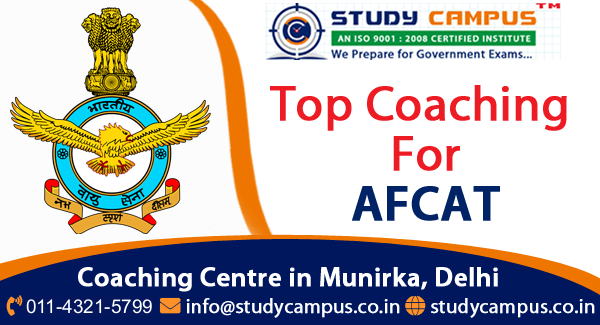 While it takes a lot of courage to live the life of a soldier, it is not enough to get you through the selections of the much coveted AFCAT exam.
Combining a beautiful blend of the scientific curriculum, experienced teachers and a remarkable way of learning approach, STUDY CAMPUS brings the best of AFCAT coaching in Munirka, Delhi.
Holding the prestige of having the highest number of successful attempts in the exam nationally, we are one of the top coaching?institutes that deliver sheer excellence till the end of the exam.
LET YOUR EXAM GUIDE YOU TILL THE END:
Before you start your journey of success, it is very important to know your exam well.
Not only does it improves your chances of success but also makes your preparation easier.
Let's see what AFCAT is all about?
AFCAT is the pan India competitive conducted by the Indian Air Force for recruiting their most promising and topcadets as future officers for almost all departments.
Streamlining your rank:
While nothing stands in front of complete diligence and hard-work, sometimes it is only 'smart work' that can make the difference.
Current affair is a major section where your strength can keep you in good position.
Reasoning is yet again another scoring part where on the basis of little concentration can lead you to high rewards.
Vocabulary especially, knowledge of synonyms and antonyms can lead you to a good position.
Having a say with the majorly used mathematics formulae will definitely improve your success rates.
A tip: No matter how well you prepare, the master stroke that can really turn tables is the right organization while you attend the paper.
WHY WE ARE THE PUPIL'S CHOICE:
We live our students dream.
Our coaching classeshave the legacy of having the highest successes in the whole nation.
Best aid of teachers and modern scientific facilities.
An all-round and scientific curriculum aid.
Frequent assessment with additional online and offline tests.
Ample doubt clearance sessions.
Students from all-over South Delhi are already enrolled with our tutorial classes. Ber Sarai, Vasant Vihar, R K Puram etc.? all come in this list.
It's time for your move!
Munirka Centre New Delhi
F-92, Second Floor, Hanuman Market,
Near Royal Bakery
Munirka, New Delhi 110067
Mobile No. - 89-20-18-04-77
Phone No. - 011-43215799