BE AT THE TOP WITH THE BEST GUIDANCE FOR SSC CGL! NOW IN YOUR CITY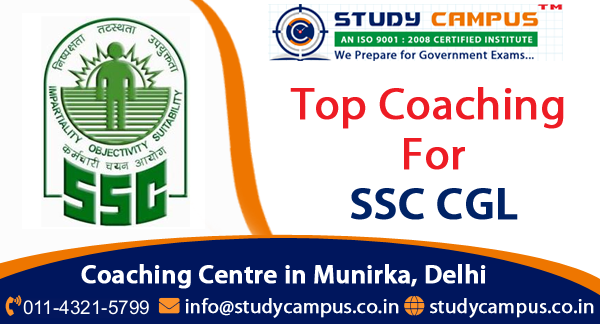 It holds a lot of pride to serve one's nation. However, getting an opportunity to do so doesn't come so easy. It goes through qualifying of rigorous competitive entrances that are equally tough to crack.
SSC CGL is one such name.
STUDY CAMPUS brings its whirlwind of excellence to candidates making this whole competitive process easier and attainable.
Our heritage coaching institute holds the prestigious credit of having the highest rate of successes in the last years, nationally. Now, you have the back of the best coaching classes for SSC CGL in Delhi, Munirka to launch your dreams!
WHAT THE ENTRANCE SAYS ABOUT ITSELF:
SSC CGL or the high rapport Staff Selection Commission is an entrance exam conducted nationally, for the recruitment of the best talents of the nation for different departments of the ministries, and organizations of the Indian Government for various groups of A and B posts.
Entrance breaking strategy:
Know your exam well: Understand the pattern and never miss out anything in the syllabus.
Start with analyzing and making study plans for yourself: Understanding your weak and strong points will give you an insight on how to plan your attempt to the paper.
Time Management: This is the nerve-center of the paper. Division of time to segments in accordance with marks weightage adds to your credit.
WHAT OUR COACHING CLASSES RENDERS YOU BEST?
Our SSC CGL Coaching in Delhi near Munirka is not only wholesome but also realistic in approach.
Our SSC CGL Coaching in Delhi near Munirka has the pride of possessing the highest success stories nationally.
Our classes have the most scientifically created curriculum that is al-round, result-oriented and practical.
Frequent test and doubt clearing sessions for better assessment of improvement.
The most experienced teachers for interactive and yielding class sessions.
Students from all over South?Delhi like Saket, Ber Sarai, Malviya Nagar are already enrolled with our tutorial classes. Start your journey today!
Munirka Centre New Delhi
F-92, Second Floor, Hanuman Market,
Near Royal Bakery
Munirka, New Delhi 110067
Mobile No. - 89-20-18-04-77
Phone No. - 011-43215799