The best of IBPS Clerk Coaching in Delhi, Munirka now to make your dreams come true!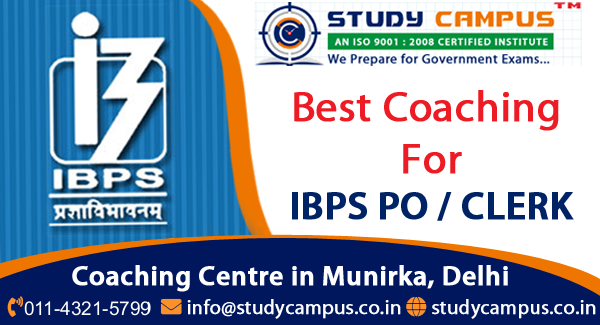 The banking sector of India has always been rewarding. With all its perks and comfort, the bank employment has always been appreciated by their aspirants. However, what is to be reconsidered here is that the path to achieve so does not go smooth. Aspirants have to pass through the competitive like that of IBPS CLERK to achieve these esteemed posts.
STUDY CAMPUS, maintaining its legacy of quality education strives to craft a curriculum that is most effective and conducive of results for their students. Here, you get top of bank coaching that makes sure you reach your goal without a miss!
UNDERSTAND YOUR EXAM:
Before striving to know overpower your entrance exam, it is important to understand it well. This deeper level of understanding not only gives you an insight on how to tackle the exam but also enables you to determine on how much effort you really need to crack it successfully.
Let's start with the basics.
Following are some last minute cheat bits that can help you leverage your confidence and preparation.
Learn to improve your concentration levels and precision.
Go through revision processes frequently.
Time Management plays a key role in determining success.
Stay focus and keep calm during the examination.
WHY TO ENROLL WITH US?
Our coaching institute has the reputation of being the best Coaching Classes for IBPS Clerk in Delhi, Munirka
Interactive classroom sessions with 360o learning aids in faster assimilation of modules.
Our tutorial conduct frequent tests both offline and online thereby tracking the overal growth of the candidate, over time.
Our coaching classes have the most experienced and one of the best team of teachers taking every student into personal account to guide them personally.
Frequent doubt clearing sessions accompanying timely completion of syllabus.
Students from all over South Delhi like JNU, R K Puram, Moti Bagh, etc. are already enrolled. When are you embarking your success story?
IBPS Clerk Coaching in Delhi Near Munirka
banking exam
Munirka Centre New Delhi
F-92, Second Floor, Hanuman Market,
Near Royal Bakery
Munirka, New Delhi 110067
Mobile No. - 89-20-18-04-77
Phone No. - 011-43215799