Get the trailblazing guidance of BBA Coaching in Delhi, Munirka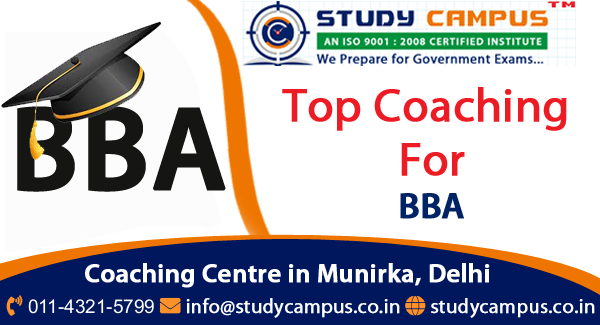 It does not require too much to convict to the aspirants of management students that it is at present one of the most coveted career path one can choose. However, what is often neglected amidst its perks and reputation is that it is equally onusfull to achieve so, both at its undergraduate and post-graduate level.
Making this rough path smoother, comes our heritage coaching institute of STUDY CAMPUS that makes continuous efforts to maintain excellence and conducive knowledge via our most scientific curriculum for our students.
Today, we stand strong with our top and highly-experienced team of teachers to facilitate the same level of expertise to the students in Munirka.
LET'S KNOW YOUR EXAM BETTER:
Understanding your exam always gives you another extra leverage in strengthening your position in the exam.
Let's start with the basics.
BBA or Bachelor Of Business Administration is an undergraduate course that encapsulates a syllabus that makes the candidate aware about the whole corporate culture in turn making them corporate-ready.
However, qualifying in this exam, commands to have at least a 50-60% of marks in the +2 examination in any stream.
Why we stand as your best choice?
Our coaching classes have the highest number of successful candidates, nationally.
Our tutorials render complete aid to learning with every updated modern methods facilitating complete and wholesome learning.
Interactive classroom sessions.
Frequent doubt clearing sessions with timely completion of syllabus.
Result-oriented curriculum with top teachers at your better understanding of concepts.
Students of South Delhi like Ber Sarai and Malviya Nagar are enrolled with us. We would love to write your success story.
Munirka Centre New Delhi
F-92, Second Floor, Hanuman Market,
Near Royal Bakery
Munirka, New Delhi 110067
Mobile No. - 89-20-18-04-77
Phone No. - 011-43215799