ACE THE TEST WITH THE BEST COACHING CLASSES FOR B. ED IN DELHI, MUNIRKA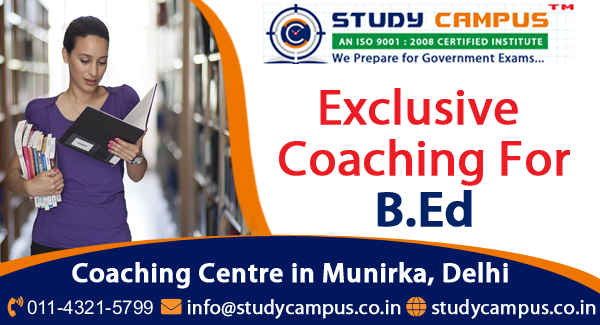 A teacher's position in our society is paramount. It is not only venerated but also celebrated across all cultures. However, attaining this prestigious 'title' demands rigorous meditation of diligence, labor and intelligence.
Making this journey simpler, STUDY CAMPUS brings you the most scientifically crafted and all-round curriculum backed-up with the most profound and experienced teacher to take you to assured success.
Our heritage coaching institute has the legacy of having the highest of the success stories nationally. Now, we bring this opportunity of excellence for B. ED coaching in Munirka, Delhi.
A LITTLE BACKGROUND OF THE EXAM:
Before you start off preparing for the esteemed test, it is very much required for you to know the ins and outs of the exam. This not only gives you an insight into how to approach the exam but also enables your better position in the competitive.
The Bachelor of Education, popularly known as B.Ed. is an undergraduate degree program that prepares candidates for the profession of teacher.
However, there are a few pre-requisites failing which you may not be able to sit for the examination.
The basic criteria to sit for the exam:
A minimum qualification of graduation in any of the discipline from a recognized university
The initial successful cracking of the entrance exam
WHY TRUST US WHEN IT COMES TO YOUR CAREER?
When it comes to our students, we leave no stones unturned to realize their dreams.
Our coaching classes have the reputation of being one of the top tutorial classes in the nation, supporting the highest success rate.
We facilitate the best learning experience equipping world-class equipments, teachers and learning modules for faster assimilation.
Frequent and multiple test series in both online and offline format.
Ample doubt clearing sessions.
All-round and result-oriented learning.
The best of the course materials followed by tricks and hacks to keep yourself fast in the exam time.
Students from all-over South Delhi like that of Ber Sarai, R K Puram, Malviya Nagar etc. are already looking up to us. It's time to make your move!
Munirka Centre New Delhi
F-92, Second Floor, Hanuman Market,
Near Royal Bakery
Munirka, New Delhi 110067
Mobile No. - 89-20-18-04-77
Phone No. - 011-43215799