Ensure your success with the best of the Bank (SBI) Clerk Coaching in Munirka, Delhi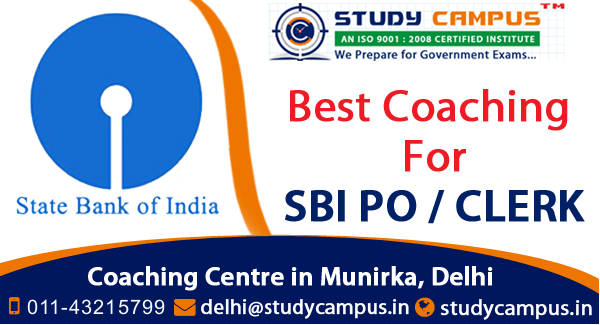 It does not need a lot of brain to decipher that the economy is anytime the backbone of any nation. Thus, the banking sector is comes into play to be one of the most promising industries that not only supports the economy but also creates occupational opportunities for masses.
However, achieving this security does not appear to be a cakewalk at all! A candidate has to go through tough banking exams like that of the SBI CLERK.
Our heritage institute of STUDY CAMPUS, takes the initiative to make realize the dreams of our students with the best learning aid that is both comprehensive and conducive of results.
We have the prestige of having the highest success stories from past years across the nation.
MUSTER YOUR PREPARATION WITH THESE IN-HAND HACKS:
While you may already understand that it is your hard-work which will alone guarantee your success in the long run, it is important that you do not overlook the importance of smart work in this hard work.
Having a good stock of hip-pocket skill will indispensably take you to a position where you can be pretty confidant on your preparation.
English is something that you should start preparing from day 1.
A thorough knowledge and understanding of your syllabus will give you leverage over how to tackle the exam.
Time Management is an integral part of the success of your cracking of exam.
WHAT MAKES US THE MOST TRUSTED EDUCATIONAL BRAND?
Our coaching institute has the reputation of being the top SBI CLERK Coaching in Delhi near Munirka.
Interactive classroom sessions with 360o learning aids in faster assimilation of modules.
Our tutorial conduct frequent tests both offline and online thereby tracking growth over time.
Our coaching classes have the most experienced and one of the best team of teachers taking every student into personal account to guide them personally.
Frequent doubt clearing sessions accompanying timely completion of syllabus.
Students from all over South Delhi like Malviya Nagar, Moti Bagh, RK Puram Ber Sarai, etc. are already enrolled. Let's launch your career today!
Munirka Centre New Delhi
F-92, Second Floor, Hanuman Market,
Near Royal Bakery
Munirka, New Delhi 110067
Mobile No. - 89-20-18-04-77
Phone No. - 011-43215799