THE BEST COACHING CLASSES FOR CLAT IN DELHI, MUNIRKA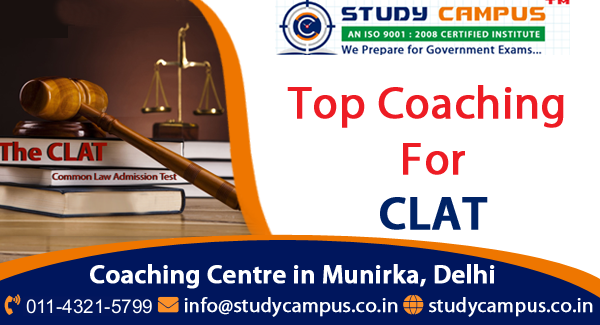 Hailing a prestigious social rank, good economy and other perks of a balanced life, law is undoubtedly one of the most promising careers with its boundaries touching newer horizons today! However, acquiring this position commands hard-work.
A candidate needs to qualify the intricate entrance of CLAT to be eligible for law studies. STUDY CAMPUS makes this whole process of entrance simple, systematic and conducive for all its students.
Our prestigious coaching?institute holds the pride of having the highest success achievers in the CLAT each year.
Now, our coaching classes with our bunch of highly experienced and resourceful teachers have come to extend our excellence of CLAT Coaching in Munirka, Delhi.
A PEEK INTO THE ENTRANCE:
CLAT or the Common Law Admission Test is a pan India entrance conducted for all the aspirants who seek to pursue a career in law and order of the nation.
It is to be remembered at every point of time that it is one of the most competitive of the exams held in the nation with a success ratio of 20:1. Thus, having a competitive approach and frame of mind is the most pre-requisite criteria before you sit for the exam.
The added bonus to keep you ahead of the traffic in the entrance:
General Knowledge is that one segment that can make you or break you.
Legal Aptitude holds quite great importance. However, this can be little tricky at some point of time.
English: Though is no short cut to this segment, a good hand of practice for continuous few months where you focus on your vocabulary, syntax and grammar can take you to a sure win.
Mathematics: This is the most scoring part consisting of 20 simple mathematics questions.
WHY WE ARE THE NATIONAL BEST?
When it comes to excellence, we only settle for best.
We have the prestigious title of being one of the top CLAT Coaching in Delhi Near Munirka.
Our tutorial has facilitation of having one of the best learning aids with highly experienced teachers for faster assimilation.
Multiple and frequent test series both offline and online with doubt clearing sessions.
360o curriculum with scientifically created modules.
Students from all-over South?Delhi like Saket, JNU, Malviya Nagar have already started off their journey to success with us. Let's induct yours today!
Munirka Centre New Delhi
F-92, Second Floor, Hanuman Market,
Near Royal Bakery
Munirka, New Delhi 110067
Mobile No. - 89-20-18-04-77
Phone No. - 011-43215799