BEAT THE REST WITH THE BEST COACHING CLASSES FOR NLU IN DELHI, MUNIRKA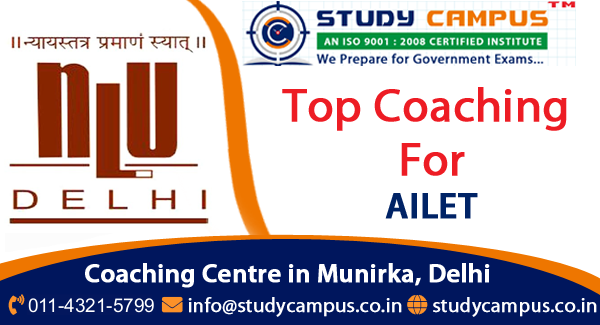 It's been decades that law has marked its expectations in the employment sector to be pretty promising. However, this along with the volley of opportunity that it has to offer you also brings in days of hard-work, dedication and proving your competencies.
The National Law University or popularly known as NLU entrance is one such scope that brings down this opportunity for all law aspirants.
STUDY CAMPUS our heritage coaching in Munirka, Delhi makes this tough task a lot easily attainable with the best of the scientifically prepared curriculum that is result-oriented and 360o in approach.
WHY SHALL YOU CONSIDER NLU?
NLU is one of the best of the institutes that aid in to the most competent and promising knowledge of all 5-year, 3-year courses. Thus, preparing for its entrance, AILET is very much important. In doing do taking the help of an expert is often more beneficial in the long term.
Our tutorials give the best of the materials for preparing for the NATIONAL LAW UNIVERSITY coaching in Delhi near Munirka.
TIPS TO CRACK THE AILET:
To be at the top of any competitive, having hip pocket skills are an essential. However, in order to find so, you need to cover some major hacks.
Daily newspapers are one of the best medium to keep you ahead in the test.
An average of 7-8 hours of core study every day is essential part to make it to the exam.
Time management is the turning point, failing which you can lose the whole competition.
WHY CHOOSE OUR TUTORIALS?
Our coaching institute has the highest number of successful candidates, nationally.
Our coaching classes render complete aid to learning with every updated modern methods facilitating complete and wholesome learning.
Interactive classroom sessions.
Frequent doubt clearance sessions with timely completion of syllabus.
Result-oriented curriculum with top teachers at your better understanding of concepts.
Students of South?Delhi like Hauz Khas, Ber Sarai, and Malviya Nagar are enrolled with us. We would love to write your success story too.
Join Study Campus Delhi Classrooms or Online National Law University (NLU) Coaching Classes in Delhi (Munirka).
Munirka Centre New Delhi
F-92, Second Floor, Hanuman Market,
Near Royal Bakery
Munirka, New Delhi 110067
Mobile No. - 8920-180-477
Phone No. - 011-43215799