MAKE YOUR NDA EXAM A GUARANTEED SUCCESS WITH STUDY CAMPUS: NOW IN YOUR CITY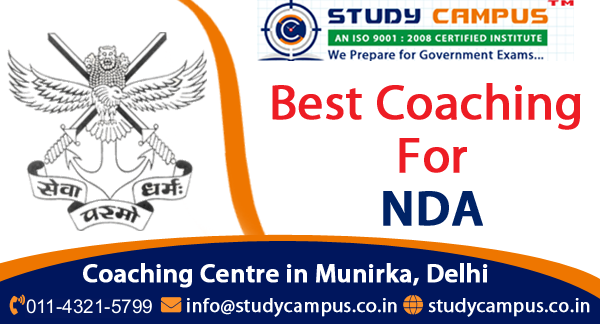 There is no doubt that cracking NDA commands a combination of diligence, excellence and most importantly labor. However, sometimes all these together too fails to realize your dreams.
At STUDY CAMPUS, we meticulously have crafted a scientific curriculum aiding the right direction to all your hard-work. Supported by our expert teachers, our coaching institute has the top guidance ensuring your success in NDA.
Holding the pride of being one of the top 5 NDA coaching classes in India, STUDY CAMPUS has now arrived to deliver NDA Coaching in Munirka, Delhi to make your dreams come true!
DO YOU KNOW YOUR EXAM WELL ENOUGH?
The first big step that can take you one step ahead for guaranteeing your success in the exam is transforming your approach towards it. To follow it up is getting a hip pocket skill.
NDA 2020 Exam Date
| | | |
| --- | --- | --- |
| Events | NDA I | NDA II |
| Release of official notification | January 8, 2020 | June 16, 2020 |
| Last date for filling the application form | January 28, 2020 | June 30, 2020 |
| Admit Card | Mid week of August 2020 | To be announced |
| NDA Exam date | September 6, 2020 | September 06, 2020 |
| Declaration of written result | November 2020 | December 2020 |
| SSB Interview | January/February 2021 | January/February 2021 |
| Final result | May 2021 | May 2021 |
NDA Eligibility Criteria 2020
must be check by the candidates before applying. The candidates want to join National Defence Academy (NDA) have to appear in the entrance examination conducted by the Union Public Service Commission (UPSC), New Delhi. The authority schedules the examination two times within a year in the month of April and September. All the aspirants are suggested to check the prescribed eligibility mentioned here. In this article, we have provided the detailed information about NDA 2020 Eligibility Criteria.
Highlights of NDA Eligibility Criteria 2020
To be eligible, candidates must fulfil the following NDA eligibility criteria.
NDA Eligibility Criteria 2020 – Nationality
(i) a citizen of India, or
(ii) a subject of Bhutan, or
(iii) a subject of Nepal, or
(iv) a Tibetan refugee who came over to India before January 1, 1962, with the intention of permanently settling in India, or
(v) a person of Indian origin who has migrated from Pakistan, Burma, Sri Lanka and East African Countries of Kenya, Uganda, the United Republic of Tanzania, Zambia, Malawi, Zaire, and Ethiopia or Vietnam with the intention of permanently settling in India.
Note: Candidate belonging to categories (ii), (iii), (iv) and (v) must have a certificate of eligibility in their favour issued by the Government of India. However, candidates hailing from the Gorkha region of Nepal will not require a certificate of eligibility.
Age Limits, Gender & Marital Status:
For NDA (1) 2020:The candidates possessing age between 2nd July 2001 to 1st July 2004 are eligible for the examination. If born before 2nd July 2000 and after 1st July 2003 then not eligible for NDA (1) 2020 exam.
For NDA (2) 2020:Those who have age between 2nd January 2002 to 1st January 2005 are permitted to write the exam. If the candidate bears the age before 2nd January 2001 and after 1st January 2004, they are not allowed to appear the exam.
Only unmarried male candidates are eligible for NDA examination. Girls are not allowed for the NDA entrance examination.
Exam pattern
Exam level National Level Entrance Exam
Organized for Recruitment in Indian Army, Navy and Air Force
Mode Of Exam Offline i.e. Pen & Paper Based mode
Section Mathematics, GAT (Section 1- English) and GAT (Section 2- General Knowledge)
Total Marks 900
Negative marking 0.33 marks will be deducted for each wrong answer
Type Of Questions Multiple Choice Question(MCQ)
Eligibility Criteria 10+2 or equivalent examination
Exam Duration 2 hours 30 minutes
Subjects
Mathematics
300
2 and half hours
GAT (Section 1- English)
200
GAT (Section 2- General Knowledge)
400
2 and half hours
Total Marks
900
SSB Interview marks
900
Total
1800
NDA Cutoff Expected 2020 for Written Exam
The cutoff NDA written exam will be calculated out of 900 marks. Candidates who will obtain the minimum qualifying marks in the written exam as fixed by the Commission will be selected for SSB Interview.
Year
Expected cut off of NDA 1
2020
280-345
Total vacancies
415 (NDA 1)

520 (NDA 2)
Let's start with the basics following up by details:
Conducted by the Union Public Service Commission, popularly known as the UPSC, the NDA exam is the entrance to the world's first ever joint services academy, the Indian Armed Force. Here, the nation's best minds and hands are trained for the three respective divisions of the academy; Army, Navy, and the Air force.
Hacks to stay ahead in the competition:
Get your HS mathematics clear.
For different subjects of social science, 10th grade NCERT books can produce wonders.
In English, a thorough practice of grammar, reading, and writing is the only shortcut.
Join the best NDA coaching for great results
Getting into the National Defense Academy (NDA) is a tough nut to crack. The difficulty level of the exam is high, and the number of applicants also ranges to several thousand. The right NDA coaching in Delhi can help you optimize your preparation. Study Campus has been included in the list of top 3 NDA exam preparers in Delhi owing to the results it delivers.
The faculty members are experienced, knowledgeable, and certified, and they know how to prepare the students using a result-oriented approach. Our coaching for NDA in Delhi consistently delivers a high student success rate, as the faculty members are subject matter experts that use a unique teaching method. We prepare you for the written and interview part of the NDA examination that helps you get closer to your dream defense job.
WHY WE STAND OUT AMONGST ALL?
For us and our teachers, our student's dreams and aspirations are the foremost priority and our prime responsibility. Here, we work as a 'dream team' and help our students to realize their dreams changing their hard work to reality.
Our tutorial classes are essentially conducive of results.
Owing the credentials of one of the most experienced and skilled teaching faculty, our classes are 360o and result-oriented.
Frequent assessment with additional advantage of test both online and offline.
Adequate doubt clearing sessions.
Students from all over South Delhi like Ber Sarai, Vasant Vihar, R K Puram, etc. are already enrolled with us.
With STUDY CAMPUS, achieve what others only dream off.
Munirka Centre New Delhi
F-92, Second Floor, Hanuman Market,
Near Royal Bakery
Munirka, New Delhi 110067
Mobile No. - 8920-180-477
Phone No. - 011-43215799