MAKE YOUR NDA EXAM A GUARANTEED SUCCESS WITH STUDY CAMPUS: NOW IN YOUR CITY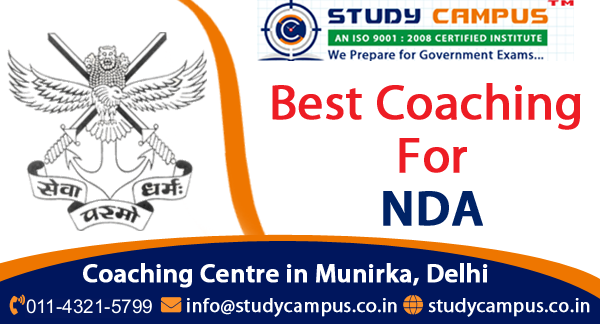 There is no doubt that cracking NDA commands a combination of diligence, excellence and most importantly labor. However, sometimes all these together too fails to realize your dreams.
At STUDY CAMPUS, we meticulously have crafted a scientific curriculum aiding the right direction to all your hard-work. Supported by our expert teachers, our coaching institute has the top guidance ensuring your success in NDA.
Holding the pride of being one of the top 5 NDA coaching classes in India, STUDY CAMPUS has now arrived to deliver NDA Coaching in Munirka, Delhi to make your dreams come true!
DO YOU KNOW YOUR EXAM WELL ENOUGH?
The first big step that can take you one step ahead for guaranteeing your success in the exam is transforming your approach towards it. To follow it up is getting a hip pocket skill.
Let's start with the basics following up by details:
Conducted by the Union Public Service Commission, popularly known as the UPSC, the NDA exam is the entrance to the world's first ever joint services academy, the Indian Armed Force. Here, the nation's best minds and hands are trained for the three respective divisions of the academy; Army, Navy, and the Air force.
Hacks to stay ahead in the competition:
Get your HS mathematics clear.
For different subjects of social science, 10th grade NCERT books can produce wonders.
In English, a thorough practice of grammar, reading, and writing is the only shortcut.
WHY WE STAND OUT AMONGST ALL?
For us and our teachers, our student's dreams and aspirations are the foremost priority and our prime responsibility. Here, we work as a 'dream team' and help our students to realize their dreams changing their hard work to reality.
Our tutorial classes are essentially conducive of results.
Owing the credentials of one of the most experienced and skilled teaching faculty, our classes are 360o and result-oriented.
Frequent assessment with additional advantage of test both online and offline.
Adequate doubt clearing sessions.
Students from all over South Delhi like Ber Sarai, Vasant Vihar, R K Puram, etc. are already enrolled with us.
With STUDY CAMPUS, achieve what others only dream off.
Munirka Centre New Delhi
F-92, Second Floor, Hanuman Market,
Near Royal Bakery
Munirka, New Delhi 110067
Mobile No. - 89-20-18-04-77
Phone No. - 011-43215799