MAKE YOUR CDS EXAM A GRAND SUCCESS WITH THE EXPERT GIDANCE OF STUDY CAMPUS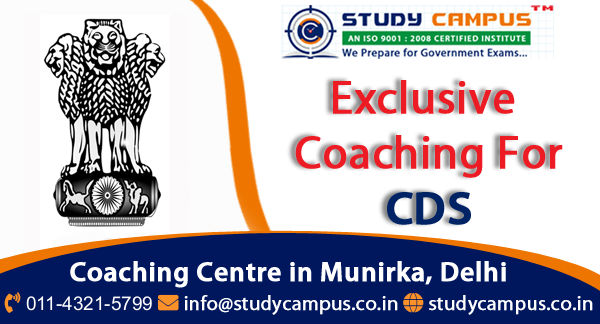 The path of CDS exam not only commands the legacy of living the life of a patriot but also unfaltering discipline. However, achieving this becomes an onusfull task especially when under trial without any expert guidance.
At STUDY CAMPUS, we take special care to scientifically craft a curriculum that is backed up by our prolific teachers aiding to the ensuring of success of our students in the CDS.
Our coaching institute holds the legacy of having the highest number of success rate every year in the whole nation. Thus, now together with our prolific teachers our tutorialclasses have now reached to extend our excellence in CDS coaching in Munirka, Delhi.
THE GIANT LEAP TO ENSURE SUCCESS KNOWS YOUR EXAM WELL!
To reach the top it is essential to start from the bottom.
Let's start with basics!
Conducted by the UPSC half yearly, The CDS or the Combined Defense Exam chooses the best of the cadets for the Indian Military Academy, Indian Naval Academy, and Indian Air Force Academy respectively.
Let's drill in deeper!
What you can expect to have as your Job role and salary structure:
The successful cracking of the pre-lims of the CDS always kick starts the beginning of challenges both physically and mentally for the cadet. At every point in time, physical and mental fitness is something which is very much demanded.
However, all your hard-work is heavily rewarded too.
The pay scale of CDS varies and it is very handsome amount as per our knowledge. Teamed up with this is a huge team of perks and amenities that an Indian Defence Officer avails. This also adds the scheme of pension.
WHY WE ARE THE BEST OF BEST?
Our teachers here not only craft a curriculum for the success of our students but their dreams too.
Our coaching classeshave the reputation of bringing out the best conducive results in students.
Our learning atmosphere and curriculum both involves learner-centricism and result-oriented approach.
Adequate doubt clearance sessions.
Frequent assessments to observe monthly growths of students.
Students from all over South Delhilike Hauz Khas, JNU, Saket, etc. are already registered with us.
Now it is time for your flight. Join the best coaching classes for CDS in Delhi, Munirka, today!
Munirka Centre New Delhi
F-92, Second Floor, Hanuman Market,
Near Royal Bakery
Munirka, New Delhi 110067
Mobile No. - 89-20-18-04-77
Phone No. - 011-43215799