REALISE YOUR ASPIRANTS WITH THE TOP CTET COACHING IN MUNIRKA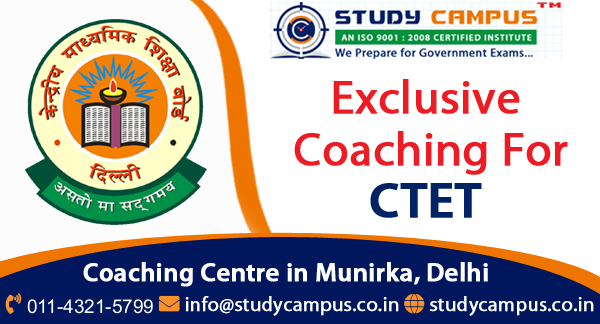 There is probably no other rank as high as that of a teacher and will never be. However, what is lesser known about this venerated role of the society is that championing this role involves great onus, diligence and skill.
The CTET is one such entrance that determines the capability of candidates to hold this social prestige.
Imparting quality education since some time now, STUDY CAMPUS brings the best coaching classes for CTET in Delhi, Munirka.
We at our heritage coaching?institute continue to make efforts along with our industry -experienced teachers to make the process of the competitive simpler, easy and systematic for our students.
WHAT YOU NEED TO KNOW ABOUT CTET:
For winning over the entrance you need to have a clear concept of it.? Thus, it is always a good idea to start from its basic essence.
CTET or Central Teacher Eligibility Test is the national entrance that quantifies the proficiency of a candidate for fitting different posts of a teaching institute.
Last minute hacks:
Although there is no competition to hard-work, many times there are small tricks that immune your rank a lot while added with your immense effort.
Preparation of a study strategy opens the flood gate to success.
Stressing on pedagogical subjects will undoubtedly fetch you more points.
Solve test papers.
Plan short term goals to achieve long term ones.
WHAT WE DELIVER BEST?
Our CTET Coaching in Delhi near Munirka holds the pride of having the highest rate of success each year.
Our coaching classes comprise the most scientifically crafted curriculum wit all-round modules that are conducive in nature.
Our tutorial conducts multiple doubt clearing sessions facilitating students with online and offline tests too.
Students from all over South?Delhi like Hauz Khas, JNU, Saket etc. have already started launching their success stories. Let's give your one the perfect take off!
Munirka Centre New Delhi
F-92, Second Floor, Hanuman Market,
Near Royal Bakery
Munirka, New Delhi 110067
Mobile No. - 89-20-18-04-77
Phone No. - 011-43215799