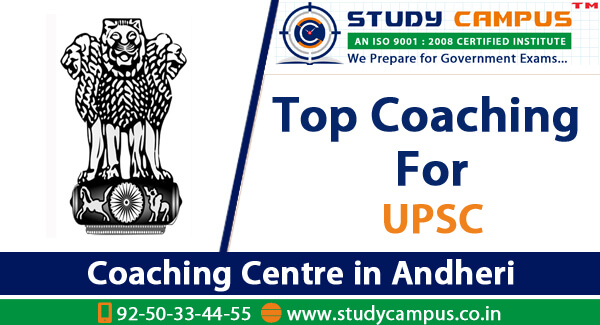 MUMBAI'S BEST COACHING FOR UPSC IN ANDHERI NOW!
The civil service exams held by the UPSC has been much coveted since long. However, cracking it has always been that tough task for its aspirants. Making this onusfull task easy and simple, our heritage institute of STUDY CAMPUS brings the best curated curriculum that assures success to our students.
HOW WELL DO YOU KNOW YOUR EXAM?
It is always advisable to start preparing for an exam like UPSC with a proper strategy, failing which the consequences may not be desirable. To do so, the first right step is to understand your exam.
How it works? If there is any negative marking scheme, etc.
HOW TO STAY AHEAD OF YOUR COMPETITORS:
Prepare an everyday study routine that will keep you going in the long run.
Study along with having knowledge of shortcut tricks to solve problems.
Make your individual notes:
This will help you to get faster assimilation over whatever you learn throughout the week.
Preparing in detail is the only key to success.
Work on personality development:
Having a good and desirable personality will always give you extra advantaged of having better chances of selection in the final interview round.
UPSC Exam Details : Eligibility
Nationality: Candidate must be a citizen of India
Candidate must be a citizen of Nepal or a subject of Bhutan
Candidate must be a Tibetan Refugee who came to India before January 1, 1962, to be settled permanently in India
Candidate must be person of Indian Origin who has migrated from Ethiopia, Kenya, Malawi, Myanmar, Pakistan, Sri Lanka, Tanzania, Uganda, Vietnam, Zaire, or Zambia with an intention of permanently settling in India
Educational Qualification:
Candidate applying for civil service exams is required to fulfill the following criteria:
Candidate must hold a Bachelor's Degree from any of the recognized universities
Candidates who have appeared for the qualifying examination and are awaiting results or those who are yet to appear for the qualifying examination are also eligible for the Preliminary Examination. Such candidates have to produce proof of passing the said examination along with the application for the Main Examination
Candidates with professional and technical qualifications recognized by the Government or its equivalent are also eligible to apply
Candidates who have passed the final year of MBBS or any Medical Examination but are yet to complete the internship can also appear for the Main Examination. However, they must submit a certificate from the concerned University that they have passed the final professional medical examination.
Age Limit :
Age Criteria
General : 32 years
OBC : 35 years
SC/ST : 37 years
Number of Attempts :
General : 6
OBC : 9
SC/ST : can give any number of attempts till 37 years of Age.
WHY CHOOSE US?
We are the growth hacker of the success that is desired by our students.
Our coaching institute has the advantage of having the best in-house industry experienced teachers for absolute guidance.
Our tutorial comes under the reputation of top 5 coaching in the nation that provides best coaching for IAS/IPS
Best curriculum focusing on result-oriented learning.
Frequent tests to keep a check on the growth and proficiency rate of every student.
Advantage for upsc coaching in Andheri-
We have exceptionally qualified & very experienced teachers.
We provide proper guidance to our students
Our Coaching fees is affordable We don't charge any extra fees.
Best Course educational modules arranged and completely embraced by our expert.
Presentation and trial (DEMO) classes are given to the student beforehand taking the fees.
We ceaselessly screen the performance of our students through astonishment tests and answer forming practice.
Life time support with correspondence material of current affairs & other which is available on our portal.
Students from places all near-by Andheri like Marol, Sahar Village, J B Nagar, Vile Parle (East & West), Amboli etc. already rely on us with their career. It is time for you to launch your dream with us. Enroll today!